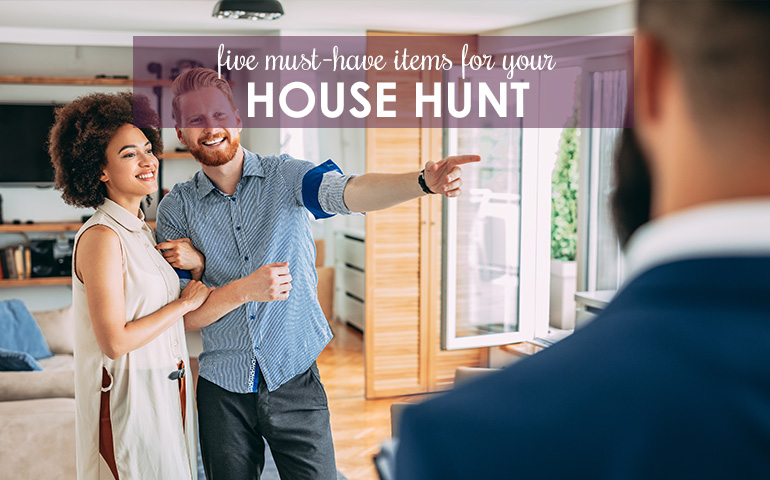 5 Must-Have Items for Your House Hunt
This week, we're saying goodbye to the first month of 2018—so, you know what that means. It is time to take another look at the goals you've set for this year. If you have aspirations of buying a home in the next 11 months, you'll soon want to spring into action.
Of course, buying a home can be a difficult process for anyone—from first-time homebuyers to experienced buyers looking to expand their income property portfolio. Today, we're taking a closer look at one of first steps in the home-buying process: house hunting.
Gone are the days when you could simply drive around, notice a "for sale" sign and stop in to see a property. Today's home buyers a coming into the process much more prepared. To help first-time buyers stay competitive in the real estate market, here are five things to take along on a house hunt:
1. Loan pre-approval
Before you do the legwork to go look at available homes, you need to do some financial legwork. Seek out lenders to see how much home you'll be able to buy. You'll need to submit recent paystubs and other financial information that will help lenders determine the price range that you will be able to afford. With mortgage preapproval, sellers will see you as a serious buyer, before you even decide if you're serious about their home!
2. A "needs" and "wants" list
It is one thing to view an online listing and be attracted to the features you see in photos. However, it is another thing to walk into a home and be blinded by that beauty—so much so that you overlook important home features that you're seeking. Want a home with enough room for a playroom or office? Need to have wood flooring? Be sure to carry your list of "must haves" and "nice to haves" with you when you're browsing through homes.
3. A camera
Ok, we get it. In today's tech-savvy world, you probably just need to make sure you don't forget your smartphone. When you're out looking at homes, you may want to take photos of certain features or rooms that you like so you can envision your own things there. You may also want to have pictures to help you figure out how to decorate. It is also possible that you'll want to remember certain features that you are not so fond of. Document your house-hunting trips by taking photos.
4. A tape measure
In addition to taking photos of a potential home, it may not hurt to do a little measuring while you're there. Maybe you'll need to find out if your couch or other furniture will fit in a room. Maybe you'll simply want to measure windows, so that you can start shopping for curtains. You may be surprised just how useful a tape measure can be when you're house hunting.
5. Your real estate agent
Perhaps the most important tool of all for a house hunt? Your professional helper! Not only can you rely on your real estate agent to arrange your showings, but you also can rely on your agent to attend them with you! Your agent may be able to bring extra knowledge about a home's features, the neighborhood or local amenities. Your agent also will be able to help you submit an offer when you find the home that is right for you.
Have what you need to start your house hunt? Let us help. Contact a trusted Berkshire Hathaway HomeServices The Preferred Realty real estate professional and get your house-hunting process started today!