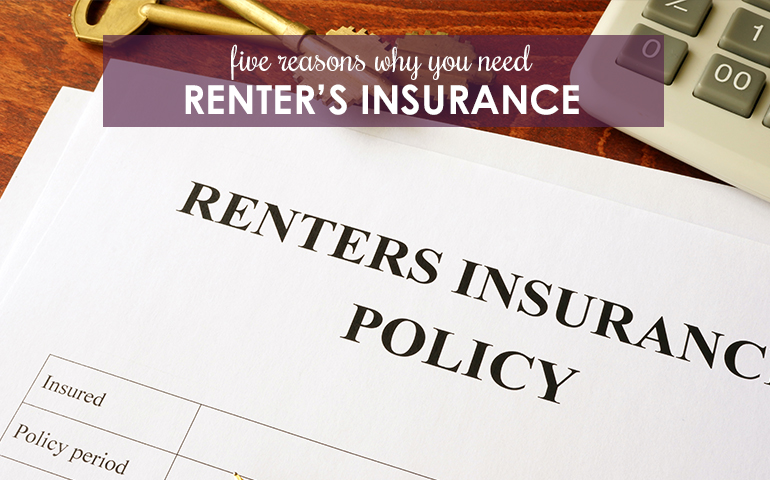 Renters: Five Reasons You Need Insurance
As students and staff prepare to head back to class this fall, you can bet that many lease agreements are being renewed or even signed for the very first time. If you're a landlord, you obviously carry insurance on your property. But if you're renting, you should know that your landlord's insurance policy does not cover you and your belongings.

When it comes to any unfortunate happenings in your rented home, you've got to foot the bill. But that doesn't mean you can't protect yourself from some unforeseen circumstances. Here are five cases where a renter's insurance policy could save you – and your personal items:

1. Theft
No one wants to think about someone breaking into their home, whether they're a homeowner or renter. But when it happens, you want to know that you have some coverage. If you're renting a home, a renter's insurance policy will take care of things like your computer, TV, clothes, jewelry, other personal items and even some of the damage. In the case of theft, you may think you don't need a rental policy—until you do, of course.

2. Fire
You can be as careful as possible, and a fire could strike at any time. This is particularly true for renters who live in multifamily units, like an apartment building or condominium. Though you may take every precaution to prevent a fire from starting in your unit, you cannot control your neighbors' actions. When you have a renter's insurance policy, you can take some comfort in knowing that you'll be able to easily replace some items lost in the unfortunate event of a fire.

3. Leaks
Somewhat on the opposite end of the spectrum, water damage also can wreak havoc on your home—rented or not. Though not all renter's policies cover major water damage like flooding, typical policies do cover damage that comes from a roof leak or a pipe that bursts. You can bet that a landlord's policy will cover most structural damage, but if your personal property is damaged from a water leak, your rental policy should cover the cost of replacing it.

4. Injury
Remember that time when your BFF's dad was helping you move into your apartment and he sprained his ankle? Though he may not have pursued damages for any medical treatment he sought, a rental policy would have covered it! While that may be an extreme example, renters should know that carrying a rental policy can protect them when someone gets hurt at their rented home.

5. Accidental Damage
Not only does rental insurance cover a renter when someone gets hurt at home, it also covers a renter when a renter causes damage to someone else's home. Let's just say a friendly game of catch outside turns into you throwing a lofty football pass through a neighbor's window… your rental policy should have you covered!

Of course, rental policies vary. So, if you are considering a policy, make sure to read the fine print when it comes to selecting what's right for you and your home. But do take the time to review available options. In the event of an emergency, you'll have peace of mind in knowing that you're covered with rental insurance.