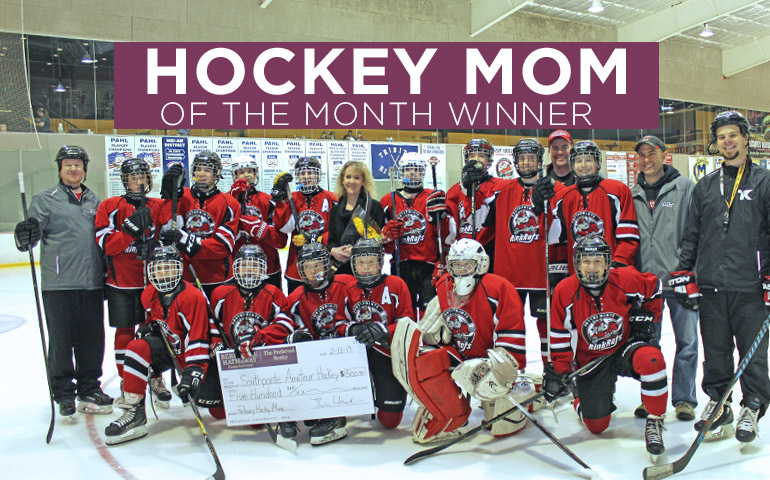 Congratulations to the February 2019 Hockey Mom Winner!
Congratulations to our February Hockey Mom of the Month winner, Colleen Sciorilli! Mom to Adam and Sarah, Colleen is involved with the youth of Washington County both on and off the ice. As a board-certified history teacher at Canon McMillan High School for the past 20 years, Colleen brings her love of history to the kids on a daily basis. She teaches her students in the classroom and also serves as a chaperone on school field trips to historical landmarks like Gettysburg where she can really bring the subject of history "alive".

Colleen brings the same skills she uses as a teacher into her role as the Business Manager for the Southpointe Amateur Hockey Association. Colleen has held that role for the past 7 years, and also served as the Business Manager for the Canon McMillan Middle School hockey team for 2 years.

As the Business Manager, Colleen has organized many team events, dinners, and tournaments over the years. She has also ensured that her players have had the chance to give back to those less fortunate by organizing a number of charitable activities for the players to participate in including a Skate-A-Thon where the players skated laps to earn money for Make-A-Wish Foundation, Steel City Icebergs, and Team Tessa of Pittsburgh. The players also participated in the South Fayette Glow Run to raise money for the 4 Diamonds Fund that helps kids with cancer and by collecting donations for the Washington County Food Bank.

Colleen's philanthropic efforts also extend into her day job and her personal life. At Canon McMillan High School, Colleen has organized efforts to raise funds for Make-A-Wish Foundation and also organized the efforts to send over 500 care packages to soldiers serving overseas. As a member of Peace Lutheran Church, Colleen has volunteered with Meals on Wheels delivering meals to those in need.

With all that she does, it is pretty easy to see why parents love and admire all of Colleen's efforts and work both on and off the ice. Congratulations!