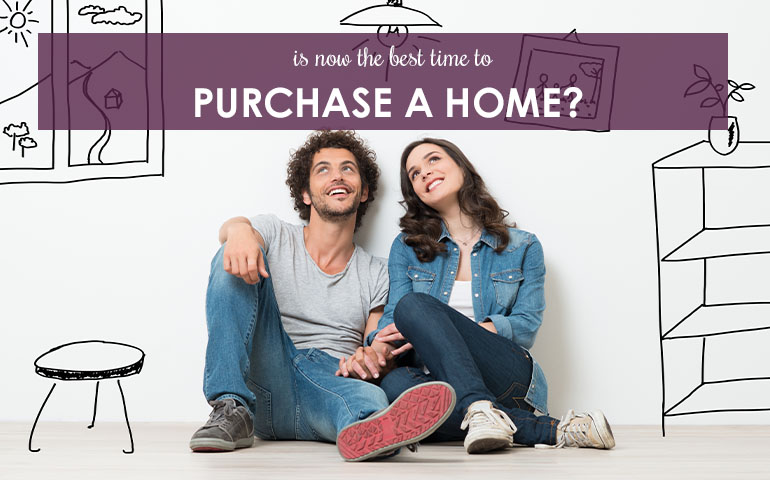 Is Now The Best Time to Purchase a Home?
There's good news all around for the housing market. You can expect the remainder of the 2019 year to be one of the best that real estate has ever seen! Unemployment is the lowest it has been in 50 years, wages are rising at a faster rate, and consumers are continuing to spend more (Federal Reserve, 2019). So what does this mean for you? Now is a great time to tap into the housing market and finally take the first steps in your home buying or selling journey.
Rates
We are experiencing historically low mortgage interest rates that drive this perfect storm. Mortgage interest rates are the compensation a borrower pays a lender for money used to purchase the property. Low mortgage interest rates give buyers the chance to build more equity in their homes quickly. Equity is the difference between the value of the home and the amount that is still owed on the home. Low-interest mortgage rates have the potential to help buyers purchase higher priced homes, and who doesn't want a nicer home!
For example, perhaps you were considering purchasing a home for $300,000 on a 30-year mortgage in the fall of 2018, but decided to hold off. That home if purchased right now, with the interest rate drop, would decrease the monthly payments by $160 per month and save about $57,000 over the life of the loan. So holding off last year worked, but we wouldn't suggest that now.
Building Equity
Building equity is a fantastic advantage of being a homeowner. Homeownership gives buyers the opportunity to build equity in their homes, which helps to grow their overall wealth. Appreciation also helps to build equity in homes. Appreciation refers to a home's increase in value over time while a homeowner is paying down the debt amount on a home.
Over time and as equity increases, homeowners often convert this equity into the down payment of a "move up" or their next home purchase.
So what does this mean for you? It means that it is a great time to buy a home! Now is a great time to buy a starter home, work to build equity, and eventually be able to buy your dream home.

Credit Opportunities
There are an abundance of mortgage programs available to homebuyers. Mortgage programs are put in place to help people purchase homes. These programs can help with everything from down payments to renovations. These credit opportunities and programs allow customers a selection of programs that can be tailored to meet financial goals and ultimately secure the home.
The outlook for mortgage rates to remain low is very good based on the actions of our Federal Government. The recent FOMC/Federal Reserve meeting adjourned with an announcement of reducing the Federal Funds Rate by a quarter of one percent. This announcement will help to keep mortgage interest rates at the current historic levels.
Are you ready to buy or sell a home? You will need the help of a local real estate agent to make the most of the market. Get in touch with one of our agents at Berkshire Hathaway HomeServices The Preferred Realty for expert advice on the current housing market.
Do you still have questions about mortgage programs or interest rates? Speak to the experts at West Penn Financial for the latest insights or to apply for a loan.