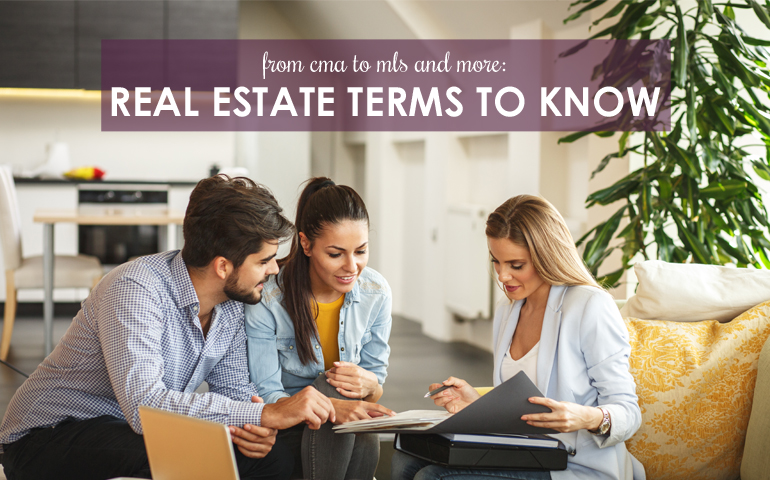 From CMA to MLS and More: Real Estate Terms to Know
Fall is upon us, and by now, most of our students have begun to bring home a few assignments. To keep pace with this year's scholarly crowd, we're offering up a few vocabulary words that are sure to help any first-time home buyers or sellers as they enter the real estate market.

Here are 10 commonly used real estate terms, and what they mean for buyers and sellers:

CMA – This is one piece of terminology that is probably used by every real estate agent out there. A CMA, or comparative market analysis, is a report of comparable homes that an agent prepares when helping a seller determine the best listing price for their home. A CMA is made up of homes that have a similar style, age of construction and amenities.

Contingency – In the real estate industry, a contingency offer means that a home must meet certain conditions before a buyer will proceed with purchasing it. Common contingencies can include a home that a buyer may need to sell or the results of a home inspection or appraisal.

Cozy – When you see the word "cozy" in a real estate listing, it typically refers to a space that is less than, well spacious. Saying a home or closet is cozy is often a gentle way of saying it is small. It's not bad terminology, but it is a signal for a not-so-large space.

Fixture – Fixtures are features of a home that come with a sale. They can include flooring, hardware or even window coverings. If you're a seller who is not sure about a feature of your home (and it is something you wouldn't want to part with), check to find out if it could be considered a fixture before you list.

FSBO – A home that is listed as an FSBO is "for sale by owner," which means that the seller has chosen to list their home without the help of a professional real estate agent. Some sellers choose an FSBO listing to capitalize on their profits. However, an FSBO also means that sellers have the responsibility of marketing their homes, scheduling showings and completing all required paperwork, among other duties commonly handled by real estate agents.

MLS – The Multiple Listing Service is an expansive listing of all homes for sale. Real estate agents have access to this database, but buyers and sellers commonly do not. Access to the MLS is another reason that buyers should work with a real estate agent when they're searching for a home.

Move-In Ready – This term means a home is ready to be moved into with little to no repairs or renovations. In a listing, this is often an indicator that a home has at least some commonly desired amenities too. Unless you're looking for a home that you can immediately begin to renovate, finding a move-in ready home is a great thing!

Motivated – This real estate term is used to refer to sellers who are eager to make a deal on their home. For buyers, a motivated seller can be a seller who is willing to negotiate to get to the closing table.

Priced to Sell – While this lingo does not mean the exact opposite as a "motivated" seller, it does mean that a seller may be less likely to negotiate on their home's price. When a home is priced to sell, sellers often feel they have already set a reasonable price for their home.

Quaint – Much like the word "cozy" above, when you see "quaint" used in a listing, it is often an indicator of size… small size. Again, it could refer to the entire size of a home or simply the size of a bedroom or closet. Whatever it is referring to is likely a smaller-than-typical space.

These 10 terms are just a start for buyers and sellers entering the real estate market for the first time. If you're stuck on unfamiliar lingo in the real estate industry, get in touch with a professional real estate agent who can help you decipher the terms—and buy or sell a home. Contact us today!